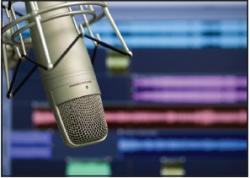 Voiceover professional Randy Thomas will present The Voiceover Mastery Event at Hotel Indigo Fort Myers Friday through Saturday, Nov. 14-16. Top voiceover industry professionals Joe Cipriano, Melissa Disney, Anne Ganguzza, David Goldberg, Graeme Spicer, George Whittam, Kurt Kelly, Zurek and Chris Corley will offer valuable insight into the nature of creating success and help others learn the tools and skills to propel their voice over careers to the next level and beyond.
Participant panels will include: "Three Keys to a Successful Career" and "The Five Habits of Successful People." Attendees can also audition for the opportunity to voice three separate commercials and enter to win a Sennhiser microphone and headphones. Discounts are available for local attendees.
An opening night cocktail party will be open to the public at Tincture Art Gallery in the downtown Fort Myers River District from 6-9 p.m. on Friday, Nov. 14.
For more information, visit randythomaspresents.com or contact Denise Chamberlin at info@randythomaspresents.com. ¦