Watch: 'The Avengers: Age of Ultron' Gets Pee-Wee Voiceover More
by Ethan Anderton
October 30, 2014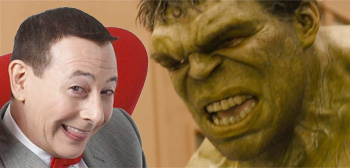 It's been just over a week since the teaser trailer for The Avengers: Age of Ultron leaked online early, prompting Marvel to smartly officially release the trailer ahead of schedule, and then unveil a fun teaser scene with all of the superheroes trying to pick up Thor's hammer Mjolnir. The buzz has been insane for next summer's sequel to the unprecedented superhero assembly of 2012, and with Marvel just announcing all of their plans for Phase Three, fans are losing their minds. But there's still fun to be had at Marvel's expense, as some have taken The Avengers: Age of Ultron trailer and made some fun parodies. Watch now!
The most recent example hit just last night on "The Tonight Show" when Jimmy Fallon, known for impersonating the voice of Pee-Wee Herman to redo the voiceover on movie trailers, brought in Paul Reubens himself to do the job on The Avengers: Age of Ultron trailer. We wish that he just did the whole trailer and replace Ultron's menacing monologue with Pee-Wee's voice, but we have to take what we can get:
Here's the trailer with a potentially more haunting song choice within (stick with it):
And here's the audio from the trailer used for a creepy Short Circuit thriller:
And if you haven't seen it for some reason, watch The Avengers: Age of Ultron real teaser trailer here.
The Avengers: Age of Ultron is written directed by Joss Whedon (The Avengers, Serenity). Earth's mightiest heroes must once again assemble when a super intelligent robot created by Tony Stark created to help fight any threats that might harm the world actually turns against him and the human race. Robert Downey Jr., Chris Evans, Chris Hemsworth, Mark Ruffalo, Scarlett Johansson, Jeremy Renner and Samuel L. Jackson all return in the sequel to Marvel's The Avengers with new names like Aaron Taylor-Johnson and Elizabeth Olsen joining the team. Disney Marvel release the film on May 1st, 2015. Looking good?
Find more posts in Humor, Marvel, To Watch
Discover more on ZergNet: